Fifteen years ago, Buddy was officially established with the mission of "Human Health Benefits from Science and Technology." Buddy has been committed to the field of electronic vaporization, providing one-stop solutions for electronic vaporization technology, HNB (Heat-Not-Burn) technology, and baking technology to customers worldwide.
Through continuous growth and expansion, Buddy's footprint can now be found in more than a hundred countries and regions, earning unanimous praise from customers and consumers. In these determined fifteen years, every member of the Buddy team constantly reflects on the legacy they've built and collaborates with customers and industry partners to envision a new blueprint for the vaping industry.
Today, Buddy Group has evolved into a well-established, intelligent production base with over 1,000 employees. With multiple technology invention patents in the fields of nicotine vaporization, CBD vaporization, heat-not-burn, baking heat, and medical vaporization, the company has established itself as a medium-sized enterprise with three major technology platforms - BCORE, iCORE, and ACORE - and more than a thousand product offerings. Throughout this journey, Buddy has relied on an innovative spirit that fearlessly breaks boundaries, meticulous market insights, and unwavering quality standards.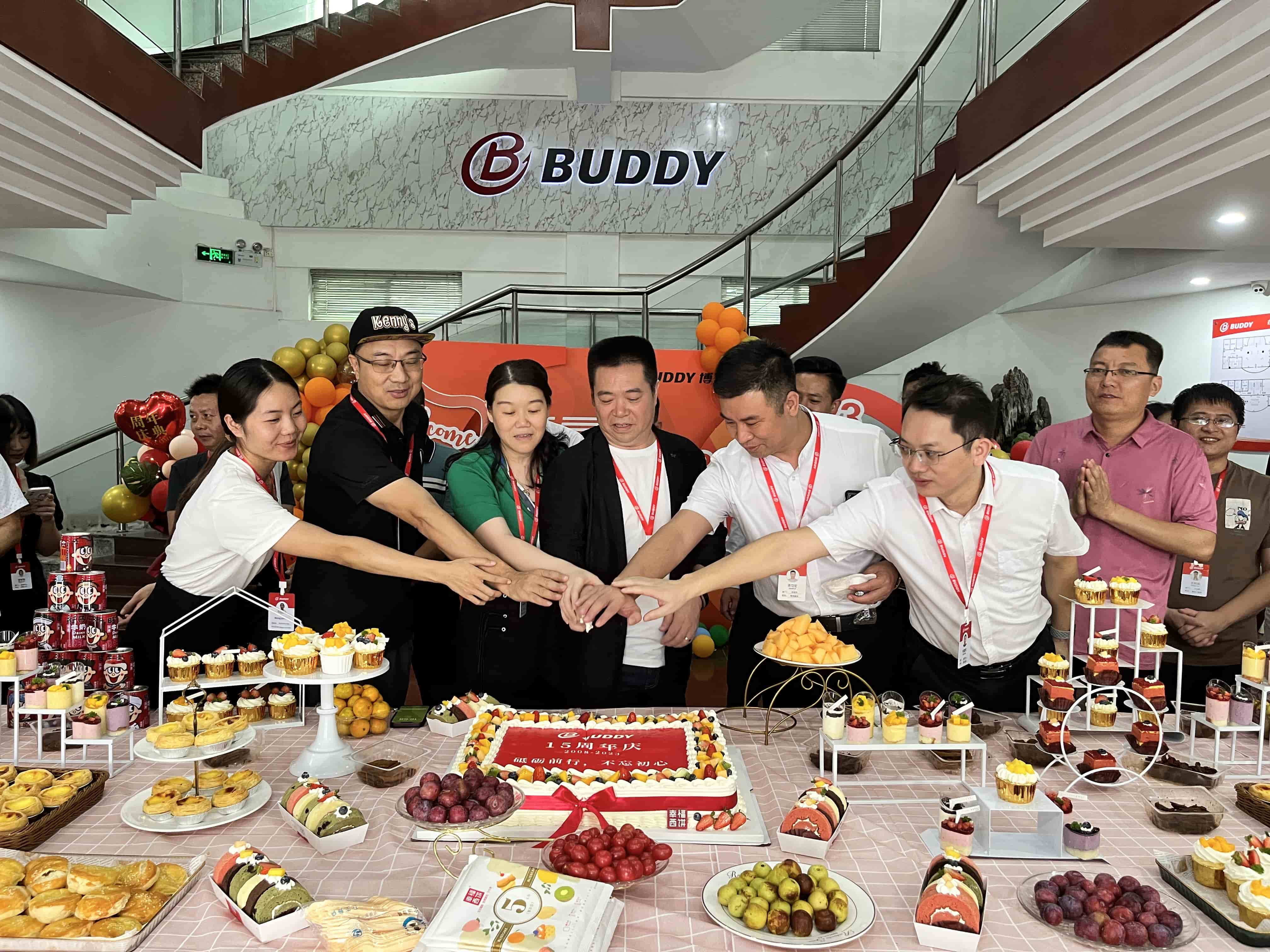 2008-2012
Exploration Phase | Steady Progress through Hard Work
In 2008, Buddy was founded during the nascent stages of the domestic electronic vaporization industry. Recognizing the importance of talent, Buddy initially formed a human resources team and established a rational and effective compensation system and benefits mechanism. Starting with a team of just over ten people, Buddy steadily grew, forming the foundation of the Buddy Group.
During this exploration phase, Buddy emphasized the value of hard work and entrepreneurship, continuously monitoring the evolving industry and customer demands, focusing on research and innovation in electronic vaporization technology, and precision development of new products. Through forward-looking market strategies, Buddy integrated technology and marketing, using profound user insights throughout the research, production, and sales stages to empower the industry and its customers. Buddy gradually secured its place in the global market and carved a niche for itself in the electronic vaporization industry.
2013-2018
Growth Phase | Bold Breakthroughs and Accumulated Success
Starting in 2013, Buddy, specializing in simulating smoking devices, leveraged years of technological expertise to achieve several industry "firsts" and innovations.
l Pioneered the cotton-free vaporizer, delivering improved vaporization performance for users.
l Acquired patents for combination-type electronic cigarettes.
l Introduced the industry's first baking-type electronic cigarette, becoming the inventor of baking electronic cigarettes.
l Broke through the international tobacco giants' technical patent barriers with HNB heating technology, iCORE.
l Collaborated with China Tobacco-related companies to release "Qi Cai Yun" e-liquids, earning acclaim from users.
l Buddy's HNB brand iBUDDY sales surged to the top three globally.
Apart from technological innovations, Buddy Group consistently improved its management standards, rigorously enforced production rules and regulations, ensured product quality and safety, established the Buddy Heating Technology Research Institute, quality and formula laboratories, and introduced smart hardware facilities like AIOT automated production lines, 100,000-level GMP dust-free workshops, and intelligent warehouses. By utilizing IoT and RFID, the entire production, packaging, and inspection process formed a traceable and accountable information chain.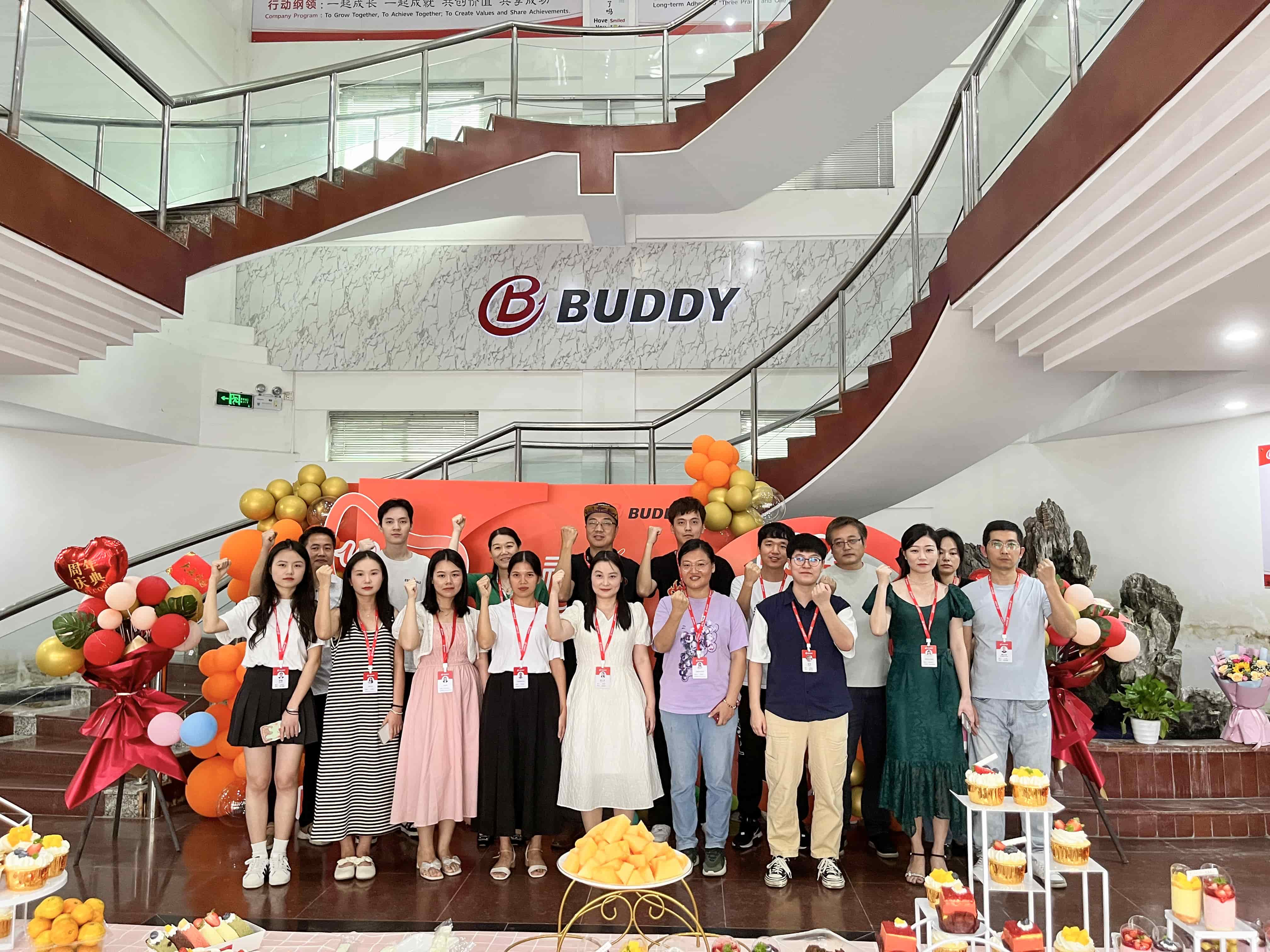 2019-2023
Ascension Phase | Striding Forward, Unwavering Progress
In 2021, the electronic cigarette industry saw further formalization of supply chain integration, marketing methods, and the future industry landscape. The industry's dynamics shifted from local to global. During this period, Buddy continued to ascend, securing a tobacco monopoly production license based on its solid capabilities. It actively fulfilled its social responsibility, focusing on innovation, integrating green technology, green production and management, and green supply chain throughout the product lifecycle, aiming to optimize resource allocation, enhance quality, and increase efficiency.
Over the past fifteen years, Buddy hitched a ride on China's economic boom, growing alongside the electronic vaporization industry. Looking to the future, at this new historical juncture. Buddy will remain committed to its mission of "Human Health Benefits from Science and Technology," continuously deepening reform and innovation, focusing on key areas to drive transformation and upgrade, upholding the principles of "National Interests First, Customer Interests First," operating in compliance, embracing innovation, and delivering professional services to customers and high-quality products to consumers, contributing its share to industry development.